Music via a high-quality hi-fi system has been a hobby since my school days. Unfortunately, it was difficult to get a technically sound overview of the subject.
The advertising of the manufacturers was anything but helpful: ferrites on optical cables are supposed to improve the sound, digital cables are supposed to sound different, passive speakers and full range drivers are marketed as technically superior... One reads so many things.
And so this homepage was created in 2006 as a hobby - a technically neutral guide for all hifi enthusiasts.
In the beginning I was quite active in the German Hifi-Forum, over the years I worked in an engineering office for sound engineering - and I studied electrical engineering. And the site grew with the time... and will be online in english language from 2020.
This page was inspired by the German sides:
Below you will find some of the history of this side.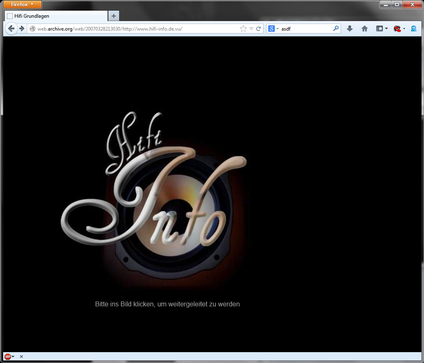 The first design in 2006 focused primarily on wood tones and was available at www.hifi-info.de.vu.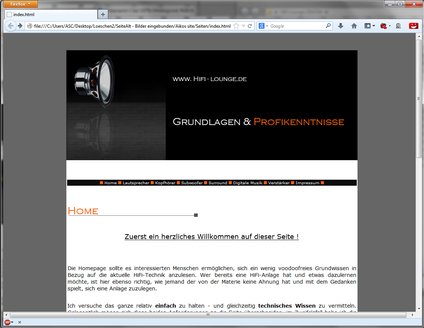 Under this design the homepage went online in 2008 under the domain www.hifilounge.eu (at that time with a hyphen). New was the loudspeaker logo which is reflected in the grey wood below. This logo should remain the trademark of the site from now on and has survived all optical facelifts of the site. As a reaction to many feedback criticizing the readability of the texts, a white background was chosen for the text. To be easily readable on large and bright monitors, the text part was embedded in a medium grey on both sides. A striking orange was chosen as a contrasting colour.

Unfortunately the stressful final phase of my master's degree forced me to rethink my priorities, as a result the site went offline in 2010.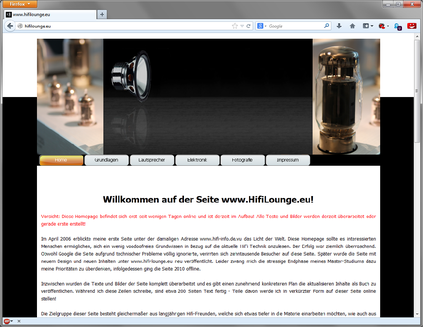 In 2013 the site went online again. As new design elements pictures of a tube amplifier were added to the title page. The side parts are now black on both sides. The contrasting colour orange is softened and supplemented by the copper-coloured tubes.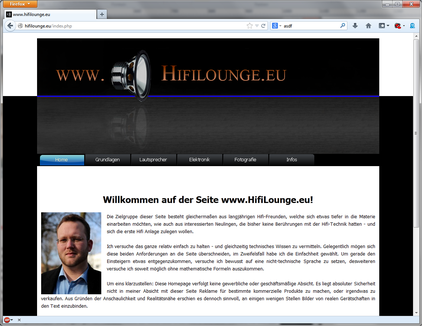 The current design wnt online 2013. The cover picture is clearly purified - the focus is directed back to the central loudspeaker motif. The colour blue is also new as an accent. The striking orange has disappeared.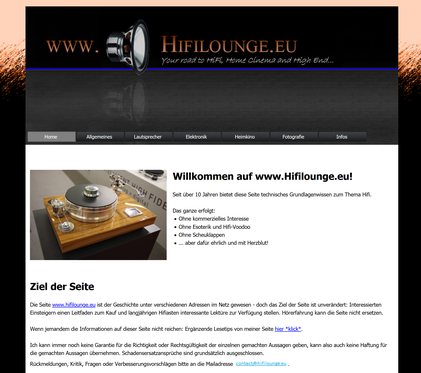 This design was online till early 2020. It was the last design with the old speaker logo - and the last version that was in German language. I liked the design - but it was time for something new.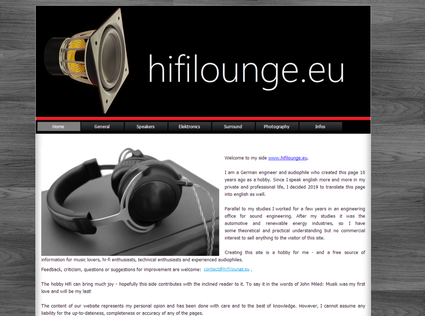 The first version completly in English went online 2020. The first time since a long time the primary logo changed. The background went back to wood, simlar to the first version of this webside.