A serious site on a technical topic must of course also provide references. However, the sources mentioned here are not (only) to be seen as validation of the statements made on this website - instead, the sources should also be understood as literature recommendations.
My partner site (German)

The homepage of Robert Menger. The article on acoustics is absolutely successful and has many vivid animations - but there are also other interesting texts. The operator of this site has become known in various forums through his extravagant DBA project.
Books: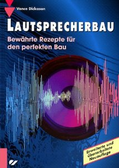 (German) Lautsprecherbau. Bewährte Rezepte für den perfekten Bau von Vance Dickason, Elektor-Verlag, Januar 2001, 1.Ed.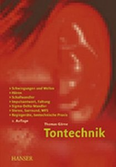 (German) Tontechnik von Thomas Görne, Verlag: Carl Hanser Verlag GmbH & Co. KG; 3. Auflage, August 2006





Publications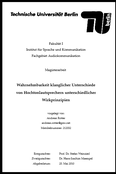 http://www2.ak.tu-berlin.de/~akgroup/ak_pub/abschlussarbeiten/2010/RotterAndreas_MagA.pdf
(German) Wahrnehmbarkeit klanglicher Unterschiede von Hochtonlautsprechern unterschiedlicher Wirkprinzipien, Andreas Rotter, Technische Universität Berlin, 2010, S. 89-90.




Forum contributions
AH, Tantris and US have published very extensive texts in various forums, some of which I would like to link here. The contributions are older but still up-to-date!
http://www.audiomap.de/forum/topic/1784-abstrahlverhalten/
(German) Article by AH, Written 28 August 2000 - 09:48
Very comprehensive presentation of the requirements for neutral interception conditions
http://www.hifi-forum.de/viewthread-30-6535.html
(German) Thread: Requirements for neutral reproduction of sound recordings and their relevance in practice
A very controversially discussed thread regarding neutral playback
http://www.hifi-forum.de/viewthread-30-9156.html
(German) Thread: Diamond tweeter at B&W
Personally, I think the 800 series(s) from B&W are excellent speakers. However, the extremely heated discussions in this thread offer a new view on the technology, which complements the manufacturer's advertising slogans in a most interesting way.
Websites
http://www.elektronikinfo.de/audio/hifi.htm
(German) The website of Christoph Caspari - Especially interesting is the article about cable sound
http://www.hifiaktiv.at/
(German) The website of the according to own statement ".....maybe the only "voodoo-free" hi-fi company" with various factual texts, among others the much discussed "realistic considerations".
Individual sentence sections were translated with the AI-based tool Deepl.com